1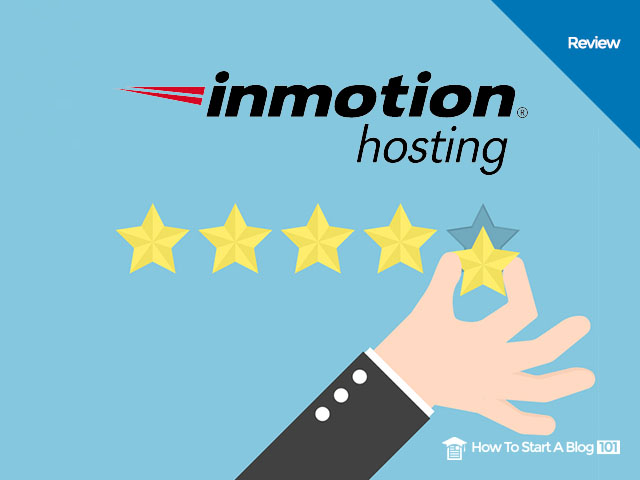 InMotion Hosting Review: 8 Advantages & 3 Weaknesses
When it's time to get serious about your website, you'll want to choose a web hosting provider that offers everything you need without charging you an arm and a leg. I've successfully launched numerous websites over the years, and based upon my personal experiences, I feel that InMotion Hosting is one of the best choices for newcomers and veterans alike. In fact, I've gone to the trouble of setting up a special deal with InMotion so that you can benefit from awesome hosting service at a considerable discount off the full, retail price. Keep reading this InMotion Hosting review for more details about why I recommend this hosting solution to anyone who intends to establish a winning web presence.
About InMotion Hosting



InMotion Hosting runs its operations using a shared server model. This means that you won't be paying for dedicated, account-specific hardware. Instead, your website will be stored on the same machines as other web pages. This gives you the best balance between free hosting, which is generally not very robust at all, and dedicated servers, which may be too expensive for the traffic level you expect.
The firm has been in business for more than a decade, and it has earned a reputation for stability and ease of use. Besides shared hosting, InMotion also offers virtual private servers and dedicated servers albeit at much higher prices.
There are more than 300,000 domains hosted by InMotion. It has earned an A+ rating with the Better Business Bureau and 3 out of 3 stars from CNET every year since 2003.
InMotion Hosting Advantages
Before choosing InMotion as your hosting company, you'll probably wish to acquaint yourself with the reasons for doing so. There are several specific things that InMotion Hosting does much better than most of its competitors:
Customer Support


The support personnel at InMotion have all undergone at least 160 hours of training, so they're well informed on almost any issue you could face. You can get in touch with these U.S.-based professionals through email, live chat, toll-free telephone number or support ticket. Real, flesh-and-blood human beings are standing by 24/7/365 to field your inquiries.
If you'd rather do your own research first before turning to company representatives, you can ask your questions and receive answers in the Community Support section. Additionally, there's a wealth of resources available on InMotion's website, including FAQs, guides and videos. Of particular interest are the Education Channels, which contain how-to articles, tutorials and other instructional materials that will show you how to get the most out of WordPress, Joomla, Moodle and other popular web development tools.
Solid-State Drives


When we get down to the nitty-gritty, most of what a hosting service does boils down to sending bytes across the internet to anyone who accesses the hosted sites. The hardware used to effect these transfers therefore has a big impact on website performance.
Through the use of cutting-edge solid state technology, InMotion Hosting is able to deliver speedy results. Old-style hard drives had spinning, mechanical plates that were subject to constant wear and tear. With this almost-obsolete way of doing things, the speed of data transfers was limited by how fast the disks could physically spin. The SSD drives employed at InMotion avoid these problems and therefore lead to rapid site loading times particularly when many users are trying to access content at the same time.
In conjunction with SSD drives, InMotion also uses RAID configurations that incorporate batteries for enhanced reliability. These arrays of drives store the same data in multiple places in real time so that any failure won't spell doom for your files. Management has taken steps to make sure that any hard drive errors or malfunctions have zero impact on customers.
It's difficult to tell exactly how fast InMotion's web page serving actually is, and it will vary depending on the nature of your site and the geographical location of the viewer. Nevertheless, reports from actual users and review sites indicate that average load times at InMotion tend to compare favorably with those of most other shared web hosting organizations.
InMotion Hosting runs two fully featured data centers: one in Los Angeles, California, and another in Herndon, Virginia. You'll be able to choose which one hosts your site, so you can select the best option based on the expected distribution of your user base around the world.
Excellent Uptime Record


InMotion boasts of 99.9 percent uptime, which allows customers to rest easy knowing that their web resources are always ready for visitors to access. Of course, talk is cheap, and anyone can just say that they offer nearly uninterrupted uptime. Several third parties have kept tabs on whether or not InMotion's claim is accurate, and almost all of them have concluded that it is.
Key to this enviable record are the equipment and software used at InMotion's data centers. The servers are supplied by Dell and they run a version of the Linux operating system. Other components come from well-regarded vendors, like Cisco Systems. InMotion Hosting claims to invest millions of dollars per year in hardware.
These data centers feature multiple redundancies so that a problem with any one part doesn't affect overall system performance. Moreover, network traffic is peered with several partners to reduce latencies and improve speed. Employees monitor everything 24/7 to address issues before they get out of hand and to benchmark performance and keep it up to par.
App Installer


You can add many popular software packages to your web backend with the Softaculous installer. Other applications can of course be added through normal installation procedures, but it's handy to have a collection of common programs available with just a single click. In total, more than 400 titles are present for you to choose from. Besides just installing them, Softaculous allows you to keep them automatically updated.
All of this functionality is integrated into InMotion Hosting's account management dashboard, and you can access it with your normal InMotion account ID. This means that you can take care of your billing functions, hosting settings and installed apps without having to jump through unnecessary hoops.
The software that you can set up through Softaculous at InMotion includes:
WordPress
You may wish to consider WordPress as your content management platform because it's one of the most commonly used packages available. There are hundreds of plugins and themes that you can use to customize your site. It was originally created as a blogging interface, but it has expanded over the years to the point that you can feel comfortable using it for commerce, news, informational and other kinds of websites.
BoldGrid
While it's your job to produce compelling and unique content, BoldGrid comes into play in helping you establish the look and feel of your site. It's a handy website builder that installs atop WordPress and takes most of the tedium out of managing your web presence. When you opt to create a website with BoldGrid, you'll be able to look forward to:
Drag-and-drop interface – Position web elements accurately without having to do any coding
Responsive design – Your pages will look amazing on desktops, laptops, smartphones, tablets, and almost every other kind of computing device
Included themes – There's no need to start from scratch because you can begin with a pre-made theme and adjust it to your liking
WSYWYG editing – You'll be able to see any changes you make in real time without having to wait around
phpBB
Once you achieve a certain measure of visitor engagement and retention, you may want to open a forum where your guests can interact with each other. This is exactly what phpBB lets you do. Set up your board the way you want it to be, grant and revoke user permissions, and email your registered users from within this package, which has been actively developed for more than a decade and a half now.
Magneto
If you plan to sell merchandise online, then you ought to think about opening a Magneto storefront. This fully featured e-commerce solution will not only let you book orders from your customers, but it also comes with tools to make market research and promotions a breeze.
Other Perks at InMotion
There's a lot more free stuff to enjoy when you open your account at InMotion. While a complete description of all the goodies you get is beyond the scope of this InMotion Hosting review, a few of them are:
90-day money back guarantee: Although most hosting firms do offer some kind of guarantee, this is among the lengthiest around.
Free domain registration: Pick a good domain that fits the theme of your site, and then get it for free at InMotion.
Free ad credits: You'll receive $100 to use with Google Adwords, $75 for Bing and $75 for Yahoo to promote your new site.
Anti-spam filtering: With its SPAM Safe procedures, InMotion offers a method for separating junk emails from legitimate ones at no extra cost.
InMotion Hosting Weak Points
I consider InMotion to be a very solid choice for anyone thinking of developing web pages, but I'd be remiss if I failed to give you a balanced view of the drawbacks involved. In most cases, these disadvantages are minor at worst, but I've included them in this InMotion Hosting review for the sake of completeness and honesty.
Pricing Arrangements


The fees for InMotion's services are by no means exorbitant, but there are cheaper companies out there especially if you don't need many of the fancy extras that come standard with an InMotion account. However, my affiliate relationship with InMotion Hosting drops the cost down by a significant amount, enabling you to partake in top-notch InMotion web hosting at a very alluring price point.
Another possible snafu lies in the fact that you'll have to purchase a plan for a year or longer – unless you spring for the most expensive Pro package – instead of taking it month by month. The 90-day money back guarantee does offer some protection in case you wind up unsatisfied with the service, but the upfront commitment required may put some potential customers off.
Limitations


InMotion Hosting doesn't cap your data transfers or disk space, which is good, but there are a few restrictions that are enforced. At the lowest tier of service, called Launch, you can only have two websites and two databases active. The next highest level, Power, raises this to six sites and 50 databases. With the top-end shared hosting product, Pro, these limits are removed altogether.
As a beginner, these rules probably won't affect you much. In any event, should your site become a big success and demand more hosting horsepower, you can always upgrade to the next level of service. Still, if you have big ambitions that may require many websites or databases from the get-go, then it might be in your best interest to investigate other hosting firms that permit you to run more of them at a time.
The Bottom-Line
There are almost too many web hosting enterprises in existence to count, but InMotion Hosting is certainly a name that deserves to be near the top of your list. If you've read this InMotion Hosting review and believe that the company meets your criteria, then sign up for an InMotion Hosting account today, and get my exclusive, discounted prices. Before long, you'll be starting a blog, online shop, corporate site or other web pages up and running smoothly.
Summary
Reviewer
Review Date
Reviewed Item
Author Rating